The Friends of the Library organization makes a difference.
Civic groups like the Friends of the Library make a profound difference in Lomira – and we do it while having fun!  The Friends have made it possible for our community to enjoy a beautiful, fun and free space for learning, creating and playing.  We welcome new members, but it isn't necessary to join us to make a contribution to our group and the library.
On Tuesday, November 6, 2018, we will host our bi-annual Election Day Bake Sale.   We are asking all those who would like to contribute to this fund-raiser to donate a batch of cookies or a pan of bars that we can sell that day.  Baked goods will be sold in individual baggies of a few items each (depending on size) for $1.  If you could bring your contribution already in individual baggies, that would be great.  You may drop off your donation either Monday, November 5, between 1:00p and 7:00p, or Tuesday, November 6, between 7:00a and 9:00a.  Thank you very much for considering our request.  If you have questions, please contact Nancy More at nancymore@hotmail.com or at 920 960 4591.
Next Meeting:   Thursday, December 6, 2018, 6:30 p.m.  Everyone is welcome! 
Election Day Bake Sale.  Tuesday, November 6, 2018, from 7:00a on.
2018 Lights of Love Tree.  Ornaments will be available for purchase starting November 6, 2018.  Tree lighting begins Monday, November 26, 2018, from 1:00p on.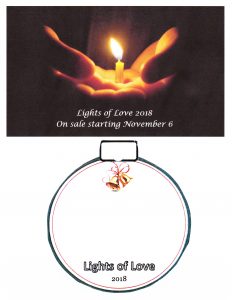 Past Events: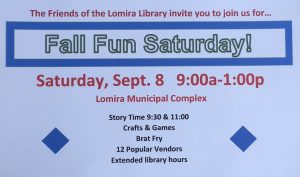 Fall Fun Saturday:  Thank you, Lomira, QuadGraphics volunteers, and our 12 fantastic vendors!  This event was a great success.
2017 Lights of Love Fundraiser : Thank you, Lomira! The Lights of Love fund-raiser was a great success. The Friends very much appreciate your donations.
2017 QuadGraphics Facility Tour: Friends members and their guests enjoyed a facility tour of QuadGraphics on October 4, 2017.  As with most things, there is always more to something than meets the eye, and behind-the-scenes looks such as these are always fascinating.  Thank you, Quad!  Please join us for our next Friends business meeting on Wednesday, October 11, at 6:30p at the library.  Under the leadership of our new Director, there are many exciting things going on at the library, and the Friends play a big part.  See you there!